As a part of the graduation industry, it's easy to forget the myriad of emotions students and their families experience around commencement. For any given student, graduation represents numerous years of hard work, dedication, personal and financial sacrifice as well as formative years creating relationships that will last a lifetime. GradImages explored these experiences further during focus groups with graduates and their families. Here are some of the emotions grads and their families reported feeling on graduation day:
Relief: they will receive the degree they worked hard for and that this part of their journey is finished
Anxiety: about their next steps and life after graduation
Joy and happiness: they finally finished
Pride: a sense of accomplishment for sticking to their goal
Bittersweet: glad to be done with college, sad to be losing some friendships formed
Reflective: on how the experienced changed them, looking back at the memories created
Hectic: (this one is mostly for parents and families) - a busy day packed with family activities, travel from one place to another and logistics for it all.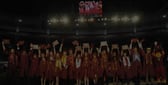 The traditional commencement photo is one of many important elements of a student's college and graduation experience.
For most students in our focus groups, it was important to capture the moment they received their diploma. They see it as a symbolic moment representing the time they invested at their university. Here's what one student said:
"I think it was pretty important, having spent so long a time at the university. I wanted to make sure I had a photo with the President of the University. It's… something everyone wants to have to commemorate their time at the university."
Additionally, parents and families of graduates talked about difficulty "enjoying the moment" when they were distracted with trying to capture their own photo.
What matters most in graduation photos? Who is in them.
When we asked graduates and their families what was most important about the photos we provided they had specific answers:
Family - "People I care about."
Friends - Many of whom were made at university.
People from their support groups or networks
Faculty that impacted them during their time at university
Other suggestions from our focus groups
Almost unanimously students and their families asked for additional photo opportunities and pose locations. These could include iconic locations around campus, alternative angles to our traditional poses and "friend & family" areas.
A challenge posed with producing these types of images is correctly identifying the graduates in each photograph. Thankfully technology and investment by GradImages has birthed Iconic ID, a new proprietary technology that enables us to quickly and easily identify graduates in candid photos. Keep following our blog for more information about the availability of this technology.
What does graduation mean to you as a graduate, parent, a commencement coordinator or faculty member?
Tweet us @gradimages and let us know-