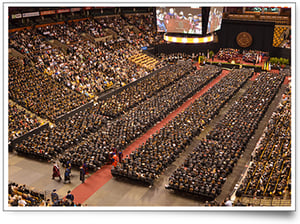 Each year, thousands of schools across the United States and Canada rely on GradImages to capture memories for almost two million graduates. We are honored to be the most trusted name in commencement photography.
The GradImages Philosophy
Commencement is the most important event at every school, and a once-in-a-lifetime memory for your graduates and their families. At GradImages, we believe the significance of these events must be reflected in everything we do. From client relationships to customer service, and photographer training to order fulfillment, our motto is this: "Every Detail. Every Time."
Our Focus
Our specialty is commencement photography and we talk, plan and train to better execute ceremonies all year long. Our work-flow, development, and training all revolve around delivering superior services to graduates and commencement coordinators. This is one of many reasons why more schools across North America prefer GradImages over other "all inclusive" companies. You may have a fantastic history professor, well respected and liked by the students, but you would never ask her to teach a chemistry course. She just doesn't have the knowledge or the experience with the content and that same concept applies to our profession.
Commencement Service Highlights
Our commencement photography services are provided at no cost to our client schools.
Your dedicated GradImages account manager will work to ensure proper preparations are made for your ceremony's photography. Any questions or special requests are only one phone call away.
Our highly trained photographers will arrive two hours prior to your ceremony, professionally dressed, and fully equipped with the latest in digital camera technology.
From image identification to customer service, GradImages handles all matters related to commencement photography.
Complimentary, no obligation proofs are sent via email and text messages to graduates within 48 hours, followed shortly by a postal mail proof.
GradImages offers a wide variety of affordable product offerings, from prints and plaques to frame and digital image downloads. Most orders ship within 48 hours.
Orders can be placed online, by phone, or by mail. Customers enjoy features such as complexion touch-up, custom cropping, "Mix & Match" options, and numerous specialty items.
Our full-time customer service representatives are available during spring extended hours to help graduates and their families.
Value Added Services
Our exclusive, online client portal provides an easy and convenient way to confirm events, order materials, and communicate with your account management team.
GradImages' photographers can be stationed at multiple locations to provide optimal coverage of your ceremony, including handshake, portrait, and close-up poses.
Our retail website, GradImages.com can be co-branded with your school's logo or crest, making it instantly recognizable as a service provided by their alma mater.
GradImages also offers green screen capabilities. Depending on ceremony conditions, portraits taken in front of a green screen can be rendered onto several backgrounds from which graduates may choose.
Our Promise:
To provide a dedicated account management team, responsible for the planning & preparation for your ceremonies.
To handle all aspects of commencement, photography, including image identification, proof delivery, and order fulfillment.
To be attentive, responsive, and professional, while recognizing the honor and distinction associated with graduation.
To share our 40+ years of experience to help make your job easier.