There are essentially four different photo finishes used in photograph printing today: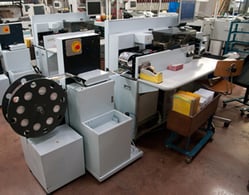 Glossy

finish is very common today at fast, local photo finishers (e.g. drug stores) as well as online printing retailers. These photographs have a shiny appearance which does quite well showing the details and colors of the image, but can create a glare when reflected off light, and are highly susceptible to fingerprints.
Matte

finish is what you have most likely viewed if you have ever noticed a "texture" on a photograph. While this texture does not detract from the detail and the color of the image, one of its purposes is to help reduce glare by deflecting light. Additionally, this texture helps reduce the fingerprint problem normally associated with glossy prints. Matte finishes are a good option for photographs which are frequently handled and/or viewed outside of a frame or album.
Luster

finish is most easily thought of as being somewhere in between gloss and matte. Luster prints are slightly glossy, which helps enhance the image's color and details, but also feature a very fine "texture" to help reduce problems associated with glare and fingerprints. A Luster finish is a popular choice of professional photographers, particularly with wedding and family portraits, as it offers a nice balance between the features of glossy and matte.
Metallic

photographs have this name because they almost look like they were printed on a sheet of metal. A metallic finish has a very high gloss, and the colors appear to be quite intense, but in a pleasant way. Although normally more expensive, a metallic finish can provide a vibrant "pop" to images, making it a truly unique keepsake.
Of the four photo finishes above, GradImages is pleased to offer luster and metallic prints to our commencement customers. These two finishes are best suited for professional commencement and student portraits, since prints from these images are usually displayed in a frame or album.
Lamination is offered as an add-on feature to our luster photographs, as a way to help protect and preserve those prints from the elements. Lamination is best suited for photographs that will be out in the open for anyone to handle, as opposed to inside an album or frame.