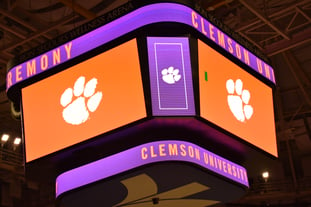 On November 14th, 2020, Clemson University hosted a series of in-person ceremonies at Bon Secours Wellness Arena in Greenville, S.C. All told more than 1,800 graduates participated in 7 ceremonies over the weekend, all socially distanced and with safety measures permeating the arena. The graduates for these ceremonies were degree recipients completed their degrees in Spring and Summer 2020.
Like most of the in person-ceremonies happing in the current environment, the students were seated six feet apart, as were the family groups that had come to support them.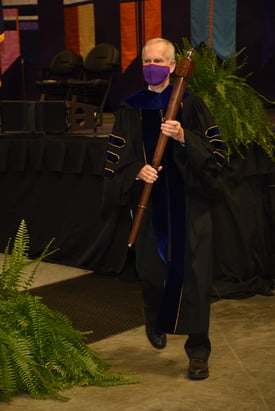 The graduates were very vocal in their appreciation of the efforts of the university to recognize their achievements. Even though they had to move the ceremony off-campus to accommodate the requirements of hosting an event with pandemic protocols, graduates gave thanks on social media and local news stories.
Takeaway #1: Online ticketing
The University employed an ingenious system for keeping the graduate's friends and families separated from each other in the arena. They offered 100% digital ticketing, with 1 ticket for the graduate and up to 4 for their family. Once they were registered, the family members were assigned seats in the Arena and were not allowed entry without them. The same system was used to check-in graduates.
Takeaway #2: Thorough cleaning
Between each ceremony the University and Arena staff thoroughly cleaned the arena in preparation of the next ceremony. Ceremonies were staggered with enough time to allow a thorough job to be done between groups of graduates.
Takeaway #3: Hygienic Self-Care
The University and Arena staff positioned hand sanitizer station throughout the arena. You could find them on every level, the event floor and on stage. With such easy access to the stations, graduates and their families were sure to conveniently maintain their own safety throughout the event.
Clemson University went to great lengths to celebrate and recognize their graduates, and remain among a small group of Universities to accomplish this feat with such a large volume of recipients. While it was certainly a challenging task, they exhibited thoughtful precaution in achieving this memorable event for their newest alumni. Clemson looks forward to replicating this process for its December 2020 candidates across five ceremonies on December 16th and 17th.