The University of Central Florida has established an innovative way for each graduate to safely celebrate graduation and receive live individual recognition in front of his or her family. The UCF "Grad Walk" events have successfully happened for multiple days in mid-November for Fall 2020 graduates and will continue in mid-December for Spring and Summer 2020 graduates. Their idea was simple…graduates come to a student union ballroom with up to four guests during a specific time slot they have registered for in advance. The graduate gets to have their name read, walk across a stage, receive their diploma cover, and take an official commencement portrait – all while their guests cheer them on!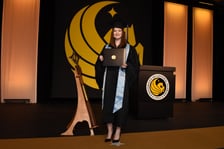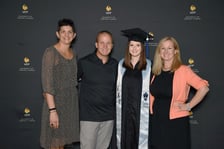 Takeaway #1: Scheduling
One of the most important aspects of keeping the graduates and their families safe was the implementation of the strict schedule. More details can be found in the Grad Walk link above, but 15-minute blocks were used, with limited families per block, ensuring that groups were escorted through the Walk in a timely and socially distanced manner. In addition, each hour time was blocked in the schedule for cleaning. It was efficient, and at no time did families get backed up. While UCF implemented their own scheduling platform, GradImages has appointment scheduling capabilities to support our institutional partners, and will be happy to leverage these convenient tools to assist with maintaining a safe, organized event for your administration and graduates.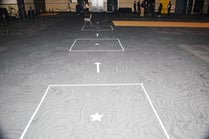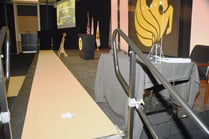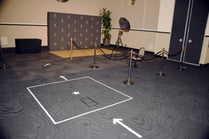 Takeaway #2: Graduate & Guest Flow
Upon arrival, graduates and their guests checked in at an outside table and were then escorted through the Walk with their family. There was only one entrance into the Walk to limit cross traffic and unauthorized access. As they approach the golden carpet, the graduate would separate from their family members, walk the center aisle while on camera and climb the stairs to have their picture taken with the University mace in the foreground and Pegasus in the background. They would then exit the stage and stop to get additional individual pictures in front of photographic backdrops. Once that was complete, they rejoin their family and take group photos in front of a University-branded backdrop.
Takeaway #3: Hybrid Experience – Grad Walk + Virtual Ceremony
UCF had earlier held Virtual Ceremonies for Spring and Summer graduates but adding the Grad Walk event to their virtual celebrations allowed UCF's students the opportunity to be individually recognized in a safe and secure manner with their families. For those that chose not to participate in the Grad Walk, the University offered up the ability to upload their own pictures to be used in the virtual ceremony at a later date.
At GradImages, we have certainly seen multiple success stories over the last several months on how schools are recognizing graduates' accomplishments, and we were impressed with how UCF developed a way to include individual recognition with families safely in a live scenario. Feedback we heard at the event was extremely positive as the graduates and their guests were thrilled to have an "individual" ceremony to celebrate together, safely.
As always, if we can help with anything, including setup or logistics questions, our team of commencement experts is always happy to help.