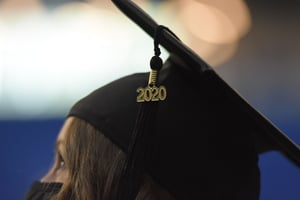 On September 19th, 2020, the University of North Georgia executed a day long series of Commencement exercises in their
UNG Convocation Center.
The University set up the event space with socially distanced "boxes" for 9 graduates and their families to occupy. UNGA then set up a schedule giving each college a block of time, and then allowing graduates to book a spot within their college's allotted time.

When the day arrived, graduates would park at the arena and bring their family (up to 4 members) to registration. Once they were checked in, the group would be escorted to a waiting room where the Commencement speeches were played on a television. Once the speeches concluded, the group was escorted to the event floor.
Each graduate, accompanied by their family, was then greeted and congratulated by University administration and graduates were invited to cross the stage. As they approached the stage, they were photographed in their mask and offered hand sanitizer. They were then escorted up to the stage to have their name read and received their diploma cover. After that, they exited the stage and stopped by a professional photo station to have their portrait made with their diploma cover in hand, and were permitted to remove their mask for the portrait with distancing guidelines well maintained.
Once the final picture was taken, families were escorted out through a one-way thoroughfare and the next set of graduates and families were escorted into the arena.
Takeaway #1: Pre-Ceremony Speeches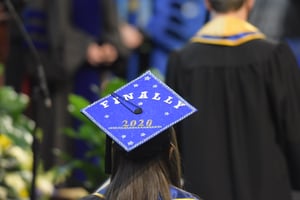 UNG had digitized all the commencement speeches for this ceremony. Having the graduates and the families view the speeches while they are waiting to take to the arena floor allows the "ceremony" to be truncated while moving the groups along at a quicker pace.
Takeaway #2: Utilizing their arena
By hosting the ceremony on their arena floor, it allowed more than enough space for social distancing. Graduates and their families are never closer than 10 feet from other participants. As each graduate was recognized on stage, the families would move to a designated position directly in front of the stage to witness and celebrate with their graduate.
Takeaway #3: Hand sanitizer stations at stage entry and exit
By positioning these stations at the entry and exits of the stage, it allowed graduates to sanitize before and after accepting their diploma cover. This was just one more layer of precaution that also helped the participants feel a little safer.