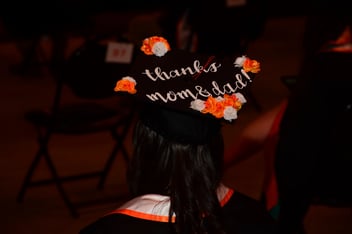 Across four days at the end of November, the University of Tennessee held a series of graduation ceremonies to celebrate their spring, summer and fall graduates. They hosted their ceremonies on campus in their Thompson-Boling Arena. After evaluating restrictions of the venue and distancing measures, the University wisely capped attendance of graduates and their families to help maintain social distancing. Over 1,200 graduates celebrated this milestone achievement across 10 ceremonies.
Takeaway #1: Online resources
UT put together a great website full of ceremony resources. They very clearly outlined the safety procedures, entry and exit strategies, and ceremony protocols. You can find their site here. The transparency that the site provides helped answer most of the common questions in advance of the ceremony.
Takeaway #2: Staggered release of friends and family
After the graduates crossed the stage for their individual recognition, they were directed to exit the arena floor and then the building. The admin then would pause the name calling after a small group to allow the guests to exit and meet their graduates outside the building. That kept the crowd disruption to a minimum and allowed the focus to remain on the graduates crossing the stage.