With schools across the country having to postpone or cancel their fall in-person graduations in light of COVID-19, GradImages is focused on supporting our partner schools with options to ensure your graduates get as close to a true experience as possible.
After carefully assessing the current circumstances, GradImages has developed a comprehensive solution to deliver portrait keepsakes to your graduates in a safe, controlled manner to commemorate their accomplishments.
Experienced, Professional Staff
From PPE to sanitation along with extensive training on how to keep safety as the highest priority, our staff is well-prepared to deliver safe service and provide your graduates the keepsakes they deserve.
"Safety First" Logistics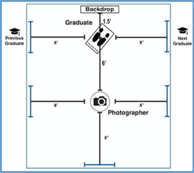 We will arrange our workspace to maintain everyone's safety and ensure proper distancing by eliminating any close-proximity interaction. Masks are worn by our staff at all times. Lastly, extensive sanitization protocol is in place should any items be handled by the graduates during the experience.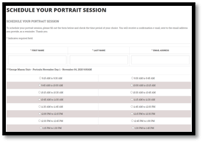 Appointment Management
Scheduling portrait appointments to maintain appropriate volume in the venue throughout the duration of the event. This
Contactless Sequencing and Data Collection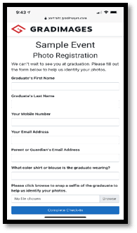 Established protocols to ensure all the information we need from your graduates can be collected in a contactless manner.
If you are interested in arranging Safe Portrait Days for your graduating students, we would be honored to support you in this initiative - simply reach out to one of our trusted professionals or you can also submit an inquiry here and we'll promptly reach out to schedule a meeting. Also, please note that this service can conveniently and seamlessly integrate with the full suite of virtual solutions GradImages offers, further enhancing your commencement experience whether that be in-person, virtual, on anything in between.