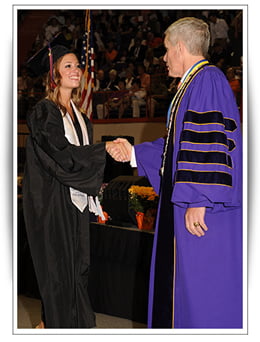 From time to time, clients have questions about how far away our photographers will stand when taking a handshake photograph of a graduate being recognized on stage at commencement. Below is information about the appropriate distance, and what the commencement coordinator(s) and school administrators can expect during the ceremony:
The rule of thumb is eight (8) feet.
Not eight feet from the administrator who is shaking hands with graduates, but instead eight feet from the anticipated location of the graduate at the moment they shake hands with the administrator. This distance has proven to be the most reliable in terms of properly framing the graduate shaking hands with the presenter.
There are some venue or event-specific circumstances where a GradImages photographer may choose a different distance, such as obstacles, awkward lighting at the venue, or limited space on stage. In general, however, eight feet from the graduate is the ideal distance for handshake photographs.
Prior to the commencement
While setting up at the venue, GradImages' staff will work with the commencement coordinator(s) to determine an approved location for the administrator to stand when graduates are recognized on stage. Our photographers will securely tape a spot marker, usually a piece of paper with two footprint outlines, to the stage floor to mark that location. Additionally, our staff will attempt to brief the administrator before the ceremony on the purpose and location of the marker.
During the ceremony
In order to capture consistent images for each graduate, our photographers are trained to discretely alert the administrator should he or she inadvertently wander off the location marker during the ceremony, if possible. Furthermore, at their discretion, our photographers may need to move slightly left or right as each graduate approaches, in order to properly frame the image. This is common and is to be expected.