As an event coordinator, you and your staff spend months preparing for commencement. You work hard to ensure everything is ready for the big day, and you rely on the dedication of your staff and volunteers to make each ceremony a success. At the end of graduation day, it is just as much of an accomplishment for those who make the graduation possible as it is for the graduates themselves.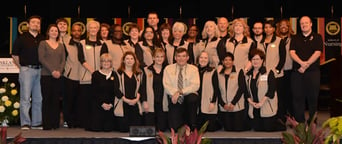 If your school is a client of GradImages, we would be honored to take a group photograph of you and your ceremony staff & volunteers at your next event. Our photographers will be at your venue at least two hours early, and would be happy to capture this group photograph at a convenient time before the ceremony.
We are actively planning for your next ceremony, so to schedule your complimentary group photograph, please contact your GradImages account manager today. It may become a yearly tradition for you and your commencement staff!