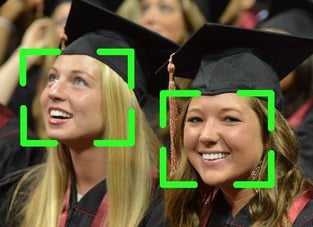 When graduates are individually recognized on stage, we are able to determine precisely who each person is by virtue of the fact that names are announced. However, it is not easy to individually identify public relations (PR) images of graduates taken before or after the ceremony. This is because photographers capture PR images "in the moment," and cannot always document each person's name before moving on to the next opportunity. The result is that these images are put into a large "gallery" with hundreds of other PR images, and graduates often need to browse through them all in order to find their own.
GradImages is changing this with enhanced image recognition, which has made remarkable advancements in the last few years. Partnering with a leading company in the image recognition industry, the objective is to scan every PR image using computer software, and attempt to match the person (or people) in each image with a person who has already been identified using our primary identification from the names being called.
There are several instances during commencements where this technology is valuable:
Small group pictures taken of a graduate with family and friends;
PR images taken during the ceremony, when our photographers must be discrete.
This is an exciting opportunity that will provide graduates and their families with more candid, personal images. We are providing this service at schools and universities across the country, and of course there is no cost to the University, and no surcharge for graduates who wished to order these images.
Once the software has been used to identify all ceremony pictures, the facial recognition data is then deleted every 10 days throughout the year. To learn more about the GradImages' privacy policies please click here.