The University of South Florida in Tampa recently made headlines by prohibiting graduates from taking "selfie" pictures while being individually recognized on stage during commencement. Making a similar announcement was Bryant University in Smithfield, Rhode Island. Both institutions are valued clients of GradImages, so this story certainly caught our attention.

Commencement policies are generally not newsworthy. However, this made national headlines because it highlights a shifting sense of appropriateness among a generation who grew up with mobile technology. For a dignified event like commencement, administrators are frustrated because common etiquette and well-established behavioral norms now seem to evade a growing number of individuals to the point where a directive like this has become necessary.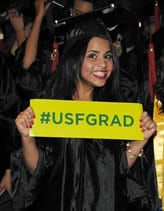 The University of South Florida actually embraces the concept of "selfies" in the appropriate setting by sponsoring a "Selfie's Abroad Instagram Contest" for their students studying in other countries. Furthermore, the University has been heavily engaged in social media, with almost every major department participating in some form. In fact, social media played an active role in the commencement. Yellow signs were distributed to graduates which simply read #USFGRAD, encouraging participants and spectators to post messages and pictures to social media outlets pertaining to graduation. Instagram, Pinterest, and Twitter searches for this hashtag show participation in the thousands; it was a big success.
With respect to this policy, however, the University was simply reminding graduates that disrupting the flow of the ceremony to take a "selfie" with the the University President, particularly when she was not anticipating being placed in that situation, was considered to be inappropriate.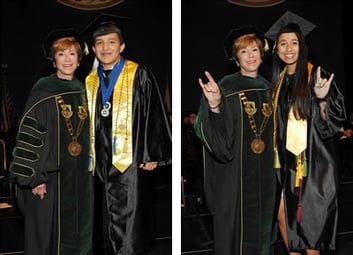 Dr. Judy Genshaft was the president of the University of South Florida for over 19 years, ending her tenure in July of 2019. For the handshake photograph at commencement, she turned and faced the photographer with each graduate. The slogan for the University's athletics is, "Horns Up!" In that spirit, Dr. Genshaft will often reciprocate a horned hand gesture if the graduate does so for his or her photograph. These "turn and pose" photographs at USF are family favorites, and help create a truly unique memory for their graduates.
As part of our service to the University of South Florida, GradImages had an event staff member on stage responsible for preparing each graduate to be photographed with Dr. Genshaft. In order to help the University's initiative to prevent graduates from taking "selfies" in front of the President, our assistant was tasked with identifying those graduates who approached the stage with mobile phones on and in camera mode. Before reaching the President, those graduates were instructed to keep their mobile phone in their right hand and behind the President at all times. While turning and posing for the camera, the graduate's right hand (holding the mobile phone) is naturally behind Dr. Genshaft, making a quick "selfie" very difficult.
GradImages is honored to partner with our client schools and universities to help with the unique needs of their ceremonies. If you are a GradImages client with questions about your commencement, please do not hesitate to contact your Client Service Specialist. We are happy to help in any way possible!