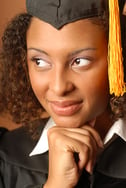 Pre-registration is a quick step that your graduates should be encouraged to take before commencement. By completing a short online form, graduates (and family members) can provide their own email address directly to GradImages, which ensures timely delivery of their photo proofs after the ceremony. This can be done by visiting:
http://gradimages.com/Preregistration
If your school is a GradImages' client, here are three reasons why pre-registration is beneficial:
1. It helps expedite proof delivery. While graduates at most commencements fill out address cards prior to the ceremony, there are always a significant number who don't properly complete these cards, or omit important information. Although address spreadsheets provided by the school are immensely helpful, some records can be out-of-date. With pre-registration, however, graduates can provide their most current contact information, and help ensure their ceremony proofs can be delivered as quickly as possible.
2. Parents can participate. With both school-provided spreadsheets and graduate-completed address cards, parent email addresses are typically not provided. Yet commencement is a once-in-a-lifetime memory, and pictures from their child's graduation ceremony are very important to most parents. Therefore, pre-registration helps parents make sure they too can receive photo proofs.
3. Discounts and prizes. With each completed pre-registration, graduates and family members receive a coupon valued at 20% off any order of $50 or more, should they later choose to place an order for graduation photos. Additionally, GradImages holds random drawings for those participating in pre-registration, and gives away thousands of dollars in prizes each year.
If you are a GradImages client with questions about pre-registration, please don't hesitate to reach out to your Client Service Representative. Additionally, the language below has been used by many schools to explain benefits of pre-registration to their graduates. Feel free to copy this text verbatim, or revise it as you see fit.
"GradImages is the official commencement photographer for our school. Your photo proofs will be ready to view online within 48 hours of the ceremony. To notify you when images are available, GradImages can send emails, text messages, and paper proofs by mail. Your contact information is never shared, and privacy is guaranteed.

Pre-registering with GradImages is the easiest way to make sure they have an accurate, up-to-date email address for you, and allows GradImages to deliver your complimentary proofs as quickly as possible. Although there's never any obligation to order, you'll receive a coupon for 20% off any order of $50 or more for your participation. To pre-register for your commencement proofs, please visit GradImages.com/Preregistration."