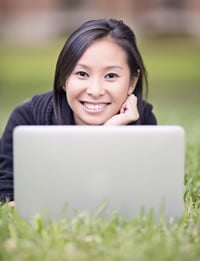 Postal mail, email, and text message are all ways GradImages can provide graduates with access to their proofs from commencement and student portrait events. However, without the ability to acquire address information, proofs cannot be delivered. Consequently, without the ability to deliver proofs, the vast majority of graduates and their families will never see their images from these special events.
Pre-registration is a good way to ensure GradImages has up-to-date address information for graduates. (Click here to read more about pre-registration.) Unfortunately, without heavy marketing, many graduates will not take the time to pre-register. Therefore, two other methods are essential to acquiring graduates' addresses for proof delivery:
Preferred method: address cards filled out by graduates
The most effective way for a photography company to acquire address information is by simply having graduates fill out address cards at commencement. Allowing graduates to provide their own information is usually more up-to-date, and can help expedite proof delivery. Additionally, these address cards can also double as reader cards as graduates are individually recognized on stage. Click here for information about when these cards are typically completed.
GradImages provides address cards, similar to the examples shown below, to schools who wish to use them. With enough lead time, we can also work with your school to design a custom address card to fit the specific needs of your ceremony. In either case, cards are provided at no cost, and can be delivered in advance of your event. Enough cards will be sent for each participant, plus plenty of extras. Click on the images below for a larger view:
When using the address cards as reader cards, it is critical to keep the cards in order to help maintain the photo sequence and identify graduates' pictures. Some of the cards in the examples above have pre-punched holes through the middle. These holes allow event staff to keep the cards in order by running them through a stringer.
Secondary method: addresses provided by the school
In addition to having graduates fill out address cards, it is very helpful when schools provide an electronic file with graduate names, email address, and home/permanent mailing addresses of students eligible to graduates. This file serves as a supplemental source of data to help ensure delivery of proofs to students who did not properly complete their address cards, or those with sloppy handwriting. Personal (non-school) email addresses are preferred, since most students do not check their school email accounts on a regular basis, particularly after graduation. To download a spreadsheet template, please choose from one of the three file format options below:
Some schools send address information in the form of printed address labels. While still appreciated, someone at GradImages has to then manually re-enter that data into a computer. Therefore, it is more helpful if the school simply remits the spreadsheet from which the labels were generated in the first place.
Best practice: two address sources
Schools with the highest proof delivery rate and lowest number of calls from families complaining that they did not receive proofs are those that (1) provide us with a spreadsheet before the ceremony, and (2) permit our staff members to distribute and collect address cards from graduates at commencement. Two sources of addresses allow us to provide the best possible service to your graduates.
Privacy Guarantees
If you are a GradImages client, please remember that our company values graduates' privacy and will keep all address information confidential, at all times. Under no circumstances is their information ever shared, sold, or distributed to a third-party. Addresses are only used for the purposes of delivering proofs from the event to students and their families, as well as occasional reminders and special offer promotions. Our company is fully compliant with the CAN-SPAM Act, and immediately honors opt-out requests via email and text message.