With the proper precautions, graduations can be executed safely during these times.
At GradImages, we've spoken with hundreds of commencement coordinators since the beginning of the COVID-19 pandemic. While most traditional events since mid-March have been cancelled, the conversation is shifting as states begin to move through the phases of reopening. We are hearing less about cancellations and virtual-only options and more about looking at what can be done to give students the most complete commencement experience possible while remaining safe and socially distant. The solution for every institution will differ based on a number of variables, but we would like to present a few success stories from recent ceremonies our clients have hosted.
Rowan University (See Below)
Allan Hancock University (Here)
University of Central Florida (Here)
Clemson University (Here)
University of Tennessee (Here)
University of North Georgia (Here)
Rhode Island College (Here)
Takeaway #1: Breaking Celebrations into Multiple Smaller Ceremonies To Limit Gathering Size
For 3 days in Mid-July, Rowan University hosted its first graduation ceremonies since May of 2019.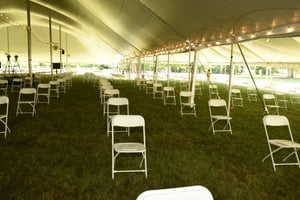 Typically, Rowan has 11 ceremonies to individually recognize their 3,500+ graduates. With the rescheduled ceremonies not being held until August, attendance was lower than traditional ceremonies. Prioritizing a graduate attendance cap of 125 candidates to keep the ceremony sizes smaller to be able to comply with social distancing guidelines, the University ultimately hosted 13 ceremonies to accommodate all interested candidates.
Parents and graduates lined up on a baseball field after parking in nearby parking lots. They had the graduates check in at 5 tables where they received reader's cards that were barcoded for touchless processing. Each graduate was allowed two guests and all guests had to have a ticket or the QR code on their phone for scanning. No replacements were taken, and masks were required at all times for everyone. If graduates or guests didn't have a mask, there were medical masks provided.
Takeaway #2: Implementing Signage & Communications to Provide Clear Instruction and Reiterate Safe Practices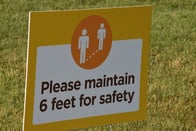 The University utilized plenty of signage in the turf and along walkways. The signs served two primary functions: clearly denoting where attendees and guests needed to go, and reinforced the importance of safety and distancing guidelines. The University had a substantial turnout of staff and volunteers, all in matching collared shirts with lanyards who were directing graduates and their families to the right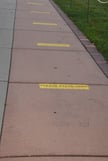 places and politely reminding everyone of safety precautions. At the line up area, announcements were made over the PA system to go to main tent after check-in and after family portraits were taken. GradImages had an 8x8 tent with a large backdrop set up and staff helped graduates and their families queue up for portraits. Participation was very high, as most graduates had plenty of time before going to the tents.
Takeaway #3: Maintaining Safe Distances For Graduates and Guests Throughout the Event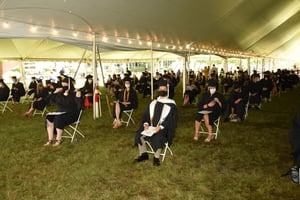 In the main tent, graduates were seated six feet from each other, and guests were seated in pairs by family unit, also six feet apart. There were four monitors at the midpoint of the tent for parents who couldn't see the stage. When the ceremony started, graduates processed in with the assistance of staff, who maintained safe spacing amidst the student body. Speeches were pre-recorded and available on the university's website, so the ceremonial portion of the events were brief. Graduates were handed diplomas at the edge of stage on the approach, foregoing the traditional handshake on stage. As graduates walked across the stage, GradImages took a picture with the dean in the background, then the students proceeded off stage. Graduates came down the ramp to for a Ceremony Portrait and then returned to their seats.
Takeaway #4: Minimize the Proceedings – Keep it Short and Sweet, with the Focus on the Graduates.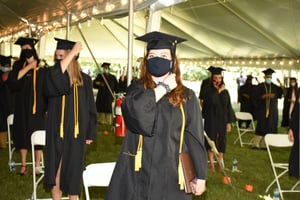 Ceremonies were all kept to 1 hour: national anthem, about 15 minutes of remarks from the Dean (no student speakers), and the individual graduate recognition. Under normal circumstances, the ceremony would entail several components, including student speeches, remarks from various other dignitaries, the presentation of colors, and other ceremonial elements. However, due to the need for additional ceremonies with fewer graduates at each, the ceremony was abbreviated for the sake of efficiency.
Takeaway #5: Release the Group in Sections to Prevent Overcrowding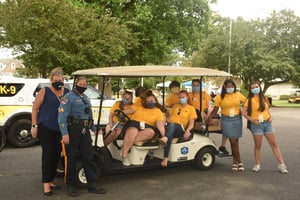 After all the graduates had been recognized and diplomas had been distributed, graduates were first dismissed, then parents were allowed to leave. At the conclusion of each event, parents and graduates were encouraged to keep moving so the next ceremony could be prepared for. All common surfaces were wiped down with disinfectant and the next group of graduates and families were invited in the same fashion for their celebration.
As GradImages continues to photograph all event types through the pandemic, we'll continue sharing best practices and other tips and tricks we learn along the way. Planning, preparation, and proper execution are all keys to hosting a safe event in these unusual times and we have certainly experienced some well thought out events that have safely overcome the obstacles and still provided a great recognition event for their graduates. If there is anything we can do to help you navigate your event planning process, please reach out to your GradImages representative and we'll be happy to collaborate.